Reporting bugs to the Hypixel Quality Assurance Team is the best way of ensuring that issues and exploits on the Hypixel Network are processed properly and forwarded to our developers for fixing.
Table of Content
Before Reporting a Bug
Make sure to read through our guide on common situations to see if a bug report is necessary:
Common situations that shouldn't be reported as a Bug
Preferred Image and Video Services
Submitting a bug report might require you to upload evidence of the issue you're encountering to a video or image hosting website. Due to security precautions, we can only view images or videos uploaded to the below authorized sites.
Authorized image and video hosting sites for Hypixel:
Imgur
YouTube
Gyazo
Vimeo
Twitch
Kick
Reddit
Lightshot
Medal.tv
If you need further help with how to use one of the above services, please refer to our support article about this at Recording and Screenshot Tools for Hypixel.
How to Submit a Bug Report
Before submitting your bug report, please note that you are required to link your Minecraft account to your forum account. Once you've linked your account and determined that the issue you're experiencing is likely a bug, log in to the Hypixel Forums and navigate to the bug report section below:
https://hypixel.net/bug-reports/create
Now you can make a report. Click on either the "Server" or "Website" report option depending on where you found the issue: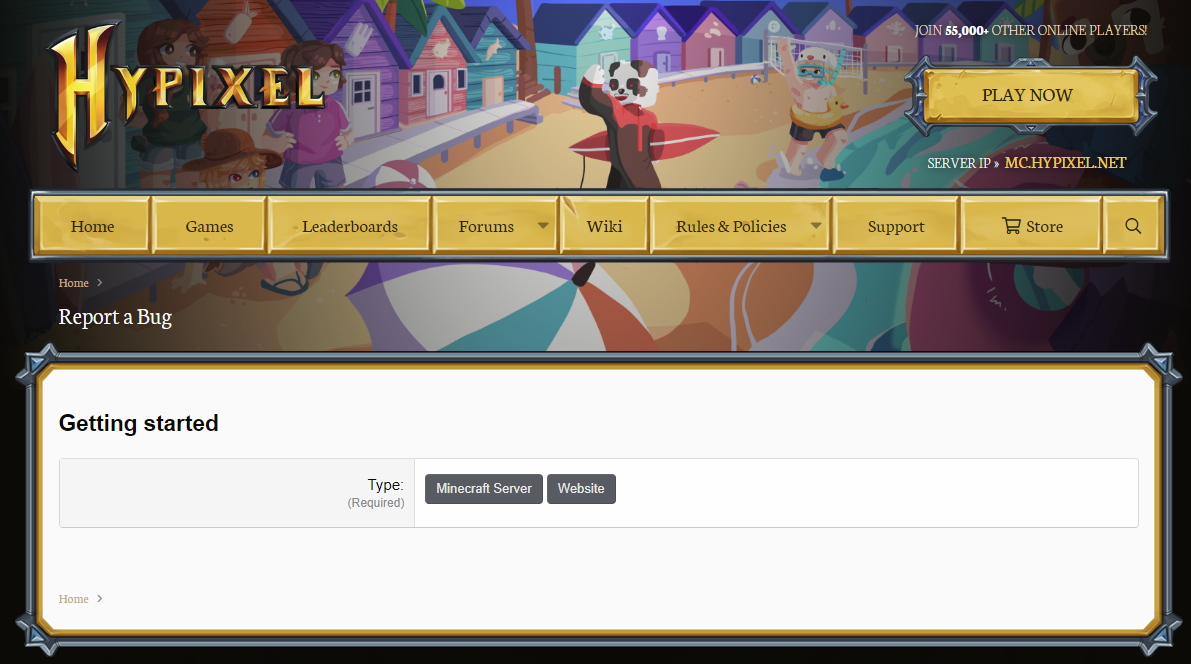 After selecting your report type, continue to fill out the form by providing as much information as you can about the bug you experienced.

Once you have completed and submitted your bug report, a member of our Quality Assurance Team will review your concerns and log them for developer review as necessary. Keep an eye on your forum notifications for any updates. If the team requires any additional information from you, they will let you know on the bug report itself.
Payment-Related Issues
All payment-related issues should be directed to support by filing a ticket with us here.