To access the Hypixel Store, please visit store.hypixel.net. Ensure all information is correct when purchasing, including Minecraft Username, Contact Email, and Payment Information.

Hypixel Store Basics
Information Bar

Support - For any issues or questions related to the Hypixel Store.
FAQ - For general questions about the Hypixel Store.
Currency - Change the type of currency you see on the Hypixel Store.
Your Cart- See what is currently in your Hypixel Store shopping Cart.


What can I buy from the Hypixel Store?

On the Hypixel Store, we offer:
Ranks - VIP, VIP+, MVP, MVP+, MVP++. Click here to see more information on what the ranks offer.
Gold - In-game currency to buy items from our in-game Hypixel store.
Boosters - Network Boosters increase the coin multipliers for everyone on a specified minigame for a limited time.
Mystery Boxes - Mystery Boxes contain various cool cosmetic features for your character and Hypixel housing plot.
Companions - Unique Hypixel pets for the lobbies.
Loot Chests - Loot Chests contain awesome cosmetics for certain minigames.
Gifts - Gifts for your friends that can earn you exclusive rewards for sending them.


Logging into the Hypixel Store


Clicking any of the items to purchase will lead you to enter your Minecraft Username. Please make sure you input your current Minecraft Username. Double-check you spelled it correctly!
Purchasing
Please keep in mind that the prices listed in the following screenshots may only be accurate depending on whether or not there is an ongoing sale. The Hypixel Store will always have the most accurate information, and you should refer to it in order to view our current prices.
Ranks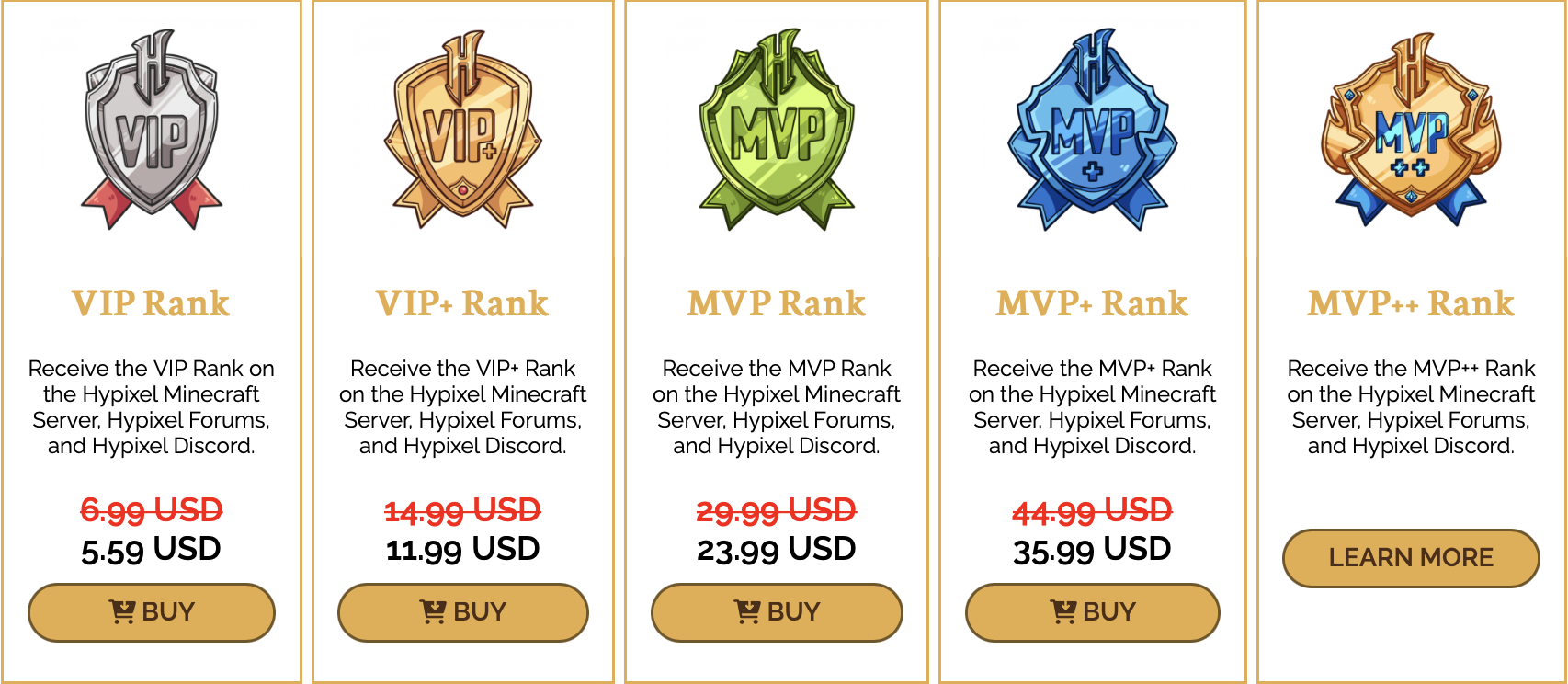 To buy a rank on the Hypixel Store, click on any of the "BUY" buttons.
If you already have one of the ranks above, purchasing the next rank will be cheaper since it is a rank upgrade. For example: If you have VIP ($7) and want to buy VIP+ ($15), it will only cost you $8 to get VIP+.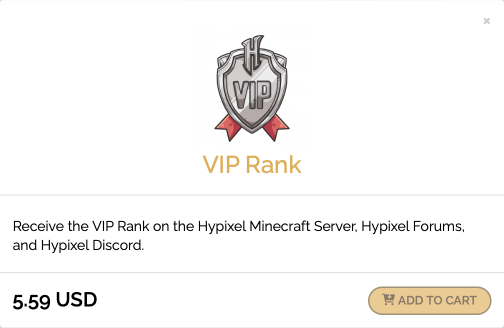 When clicking the "BUY" button, it will ask you to put the item in your Cart. This will let you continue shopping and you can purchase everything all together at the end.

MVP++ is our only different rank! MVP++ is like a rank add-on to MVP+ and is temporary. You can purchase MVP++ for 30, 90, 180, or 360 days. For more information on MVP++, please visit the MVP++ Rank section on the Store.


Boosters

Boosters are offered for many of the games on the Hypixel Server. You can buy a booster that lasts 60 minutes. Make sure you click "BUY" on the right minigame!


Mystery Boxes

You can buy different amounts of Mystery Boxes by clicking the "BUY" button underneath the bundle you want.


Companions
Companions are pets to follow you around in lobbies. You can click "BUY" on the bundles or under just one of the companions you want.


Loot Chests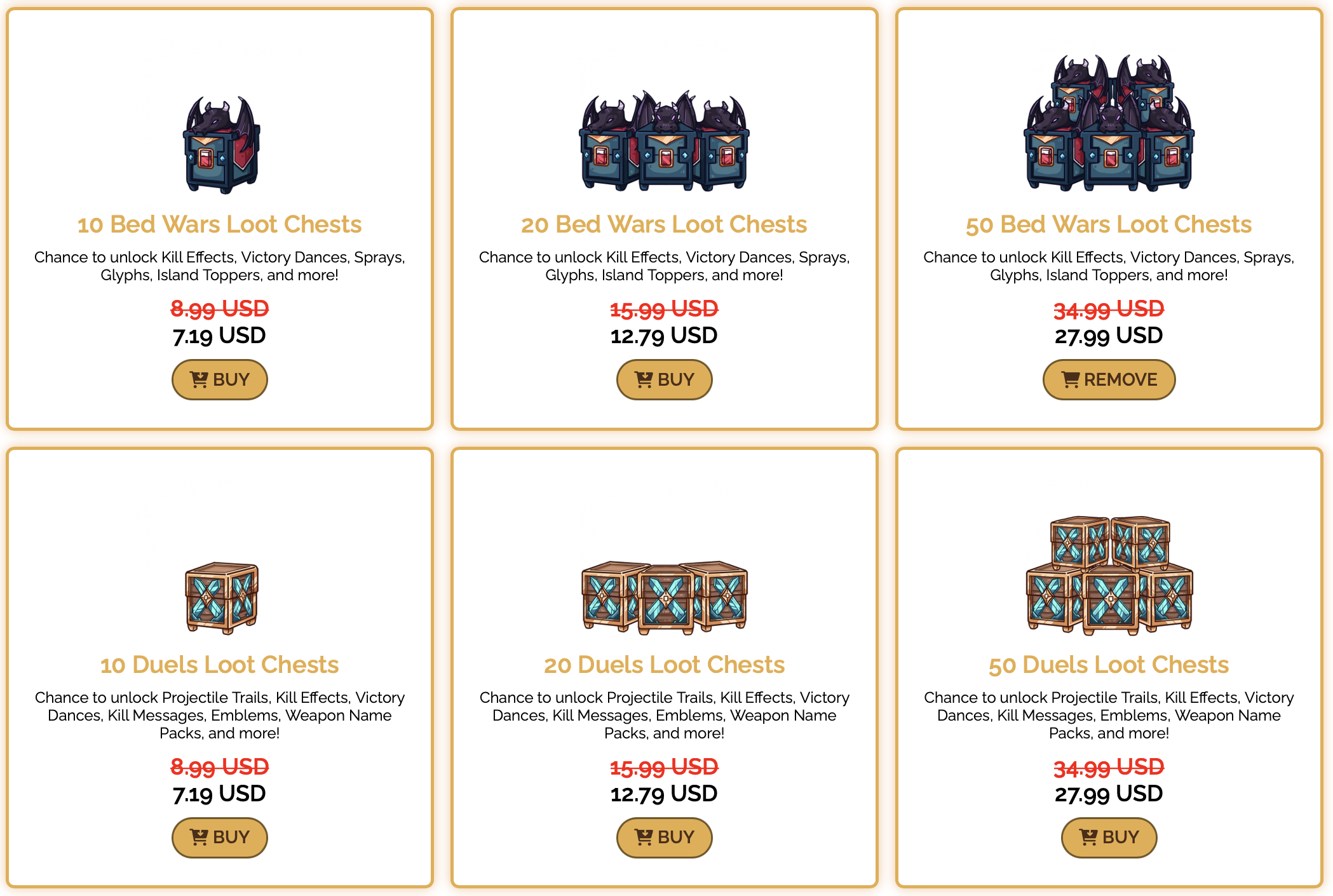 Similar to other items, you can buy bundles of different amounts of Loot Chests. They are only available for several minigames on the server, make sure you click "BUY" on the right one!


Gifts

Gifts are special since they can only be given to a friend on the Hypixel Server! You cannot buy them for yourself, but you will get rewards for sending them out. You can buy different amounts in the store. You gift them in-game after purchase.

Checkout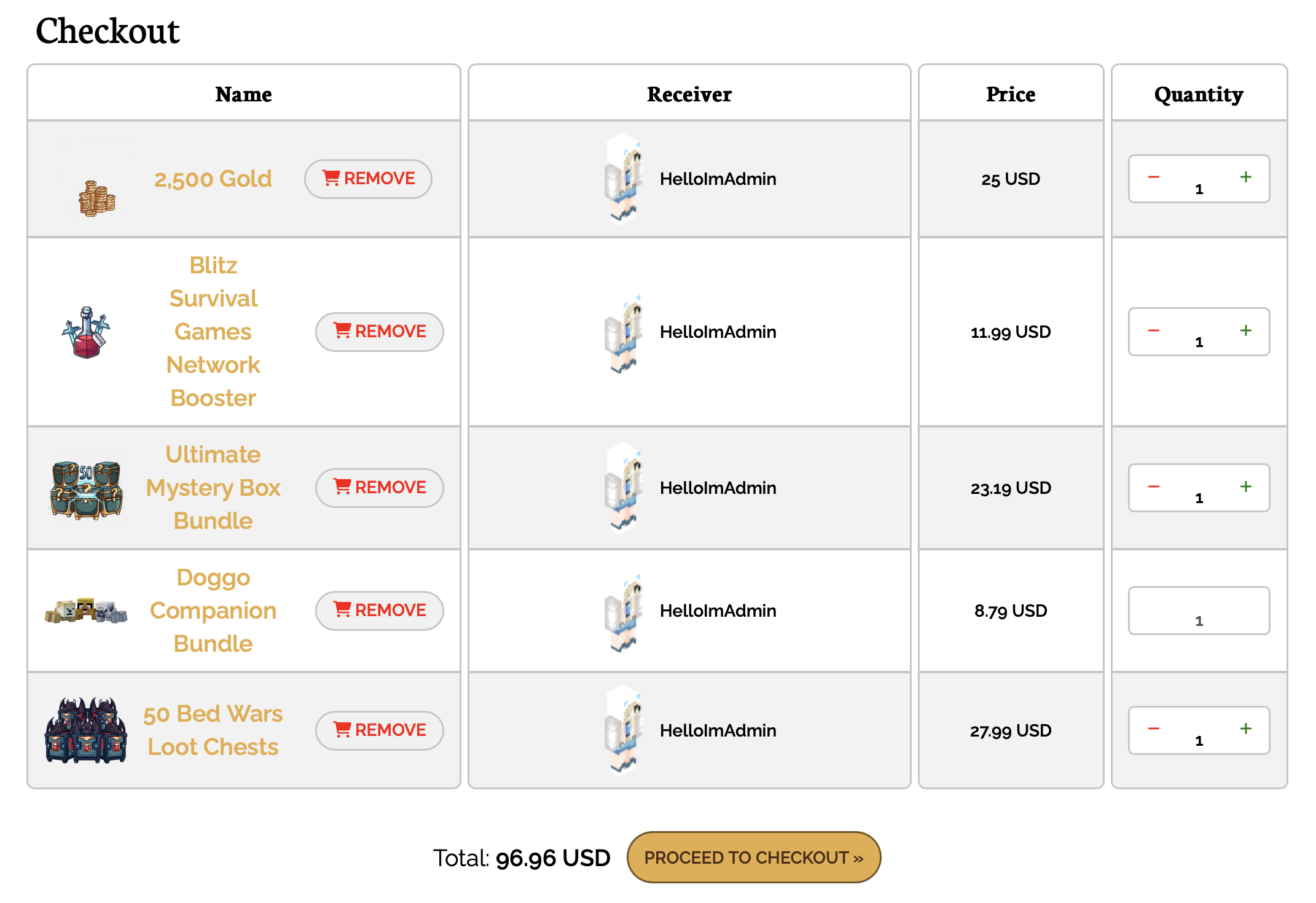 Verify that what is listed is what you want. If you want more orders of one of them, then you can change the Quantity. Make sure you click "Update" if you change the Quantity.
Ensure that the "Receiver" is the right Minecraft Account! If it is not, then relog into the Store to get it fixed.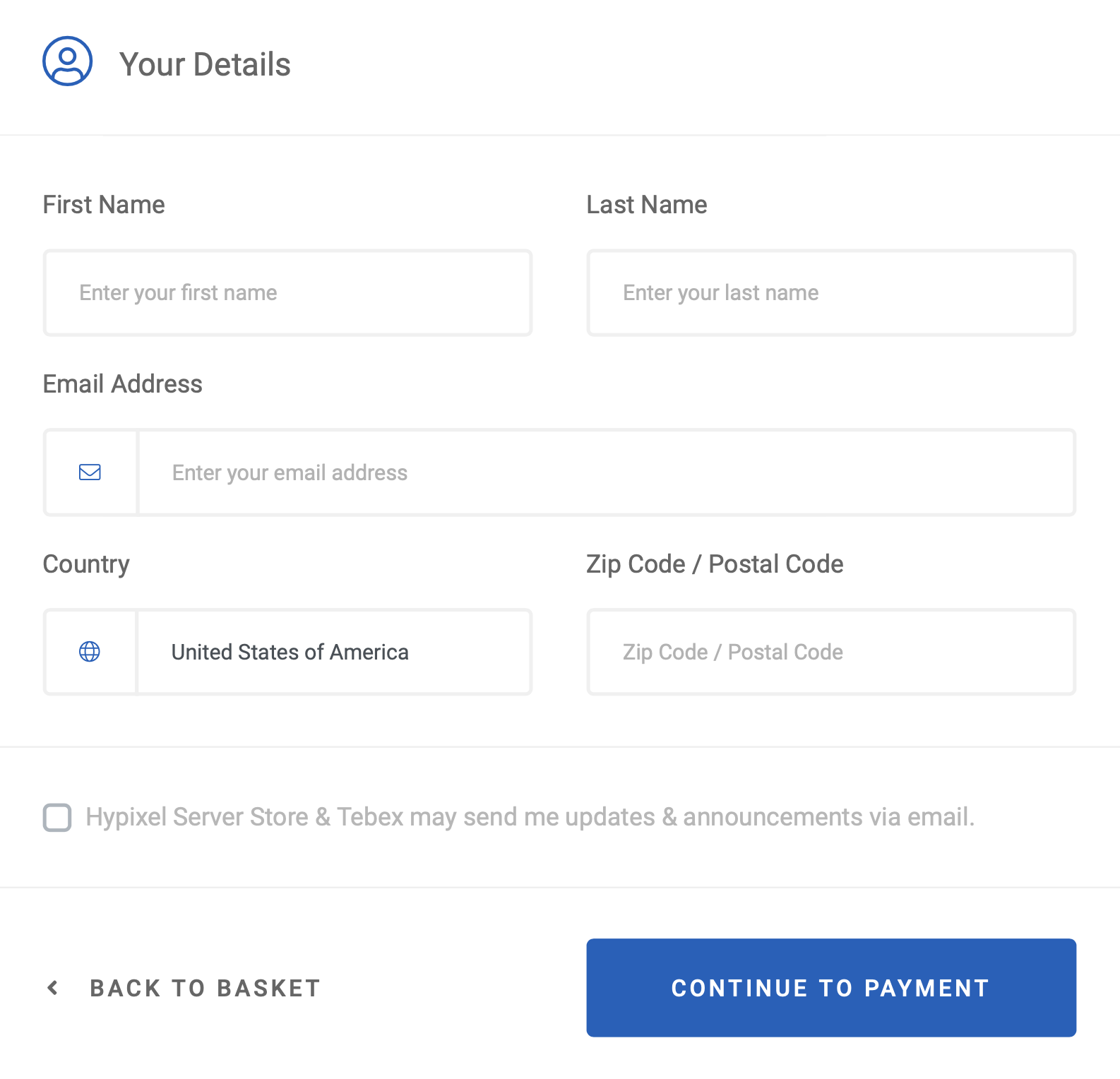 Fill out the information with your details. We ask for this as we are legally obligated by law to at least ask for this information, however, we do not physically send anything. You may enter any fake information if you'd rather remain anonymous.
Now you can choose your Payment Method. For more information on the payment options, you can highlight over them on the store.

Check the box once you have read the Privacy Policy and Hypixel Store's Terms and Conditions.
Please note that the Hypixel Store's geological location is in Europe - as such, any payment methods that cannot be used internationally won't work unless you are paying from Europe.


Once you fill out the card information, you should see the confirmation screen and will receive an email about your purchase. If you have not received your purchases within 48 hours, please contact support at support.hypixel.net.