Hypixel Support answers questions related to Hypixel Server purchases such as rank issues and chargeback bans.
There are two ways to contact support:

Website Tickets - Recommended
You can create a ticket on the website you are currently on support.hypixel.net. To do so, you can click 'Contact Us'or 'Sign in' if you would like to create an account, or log into your previously existing account.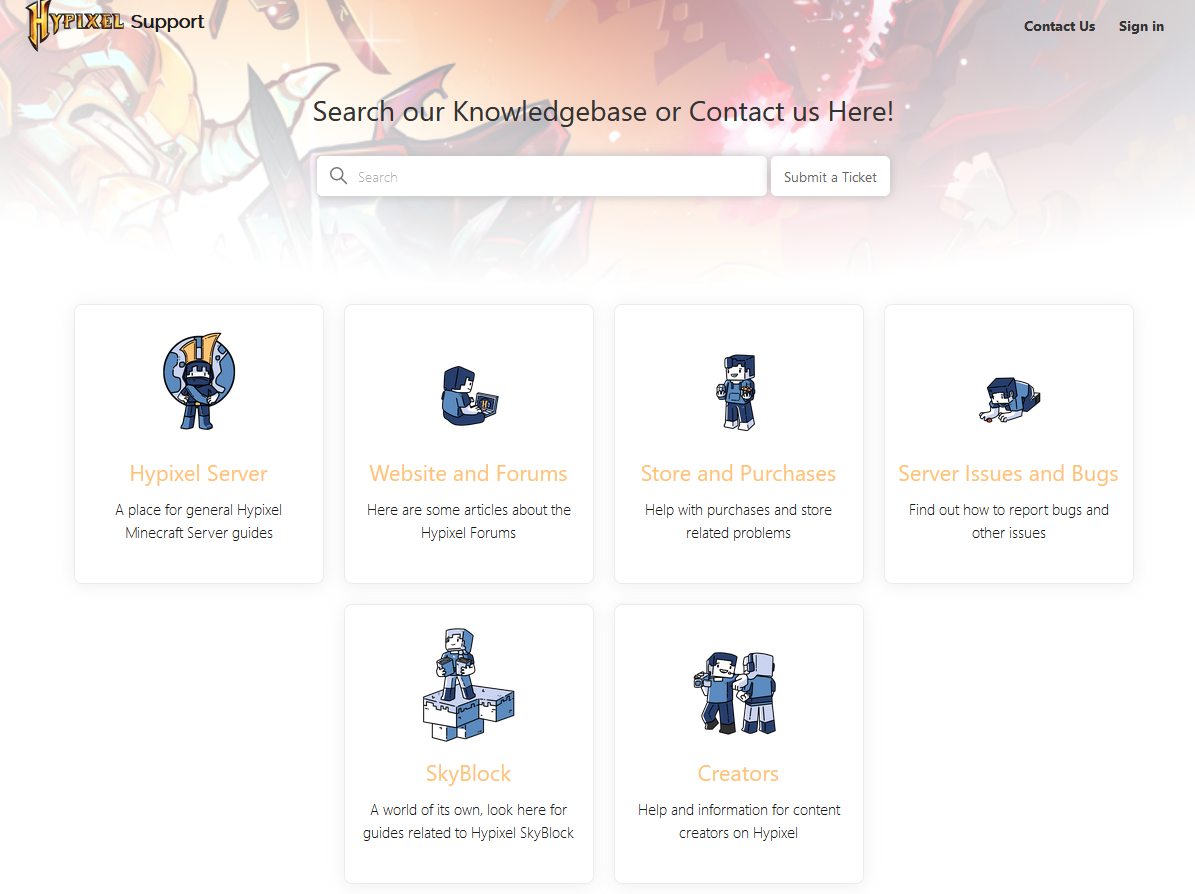 After clicking on 'Contact us', you will be brought to this page.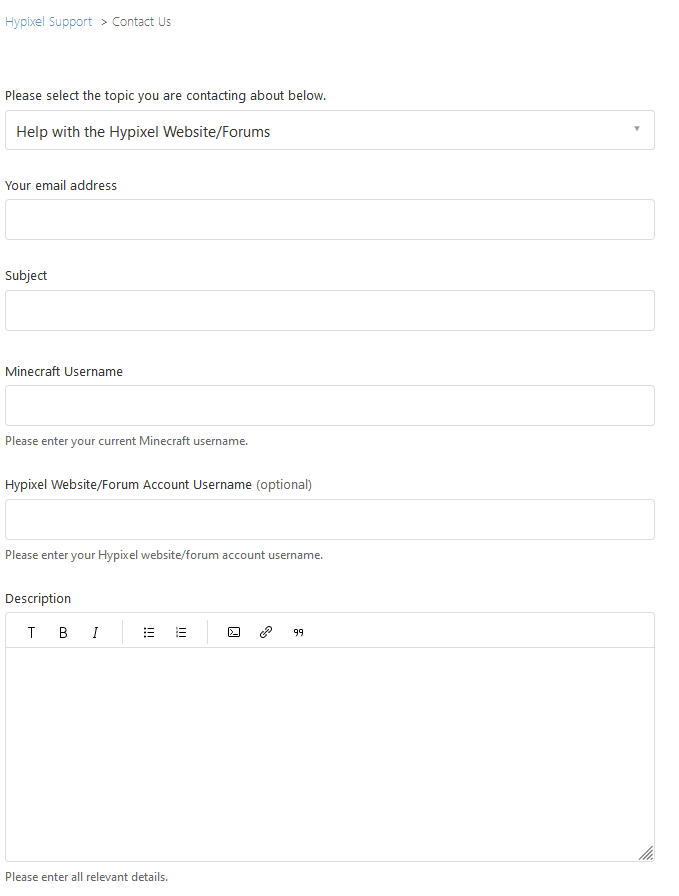 Under 'What kind of help do you need?' You can select any of the following which relates to your ticket.
Billing / Payments on the Hypixel Store
Issue on Hypixel SkyBlock
Connection Issues / Lags on the Hypixel Server
Hypixel Website / Forum
Issue on the Hypixel Minecraft Server / General Inquiry
Creator Program (YOUTUBE rank) Application / Creator Questies
Your 'subject' will be the topic of your ticket, and your 'description' will describe that topic more in depth so we can assist you.
Please include your most current Minecraft Username for the 'Minecraft Username' section.
If your inquiry is payment or billing related, please include the Transaction ID in the 'Transaction ID' field.


Or, you can create an account for use on our support site by clicking 'Sign Up'.
Alternatively
You can 'Sign in with Google' to use your Google account during the account creation or sign up process.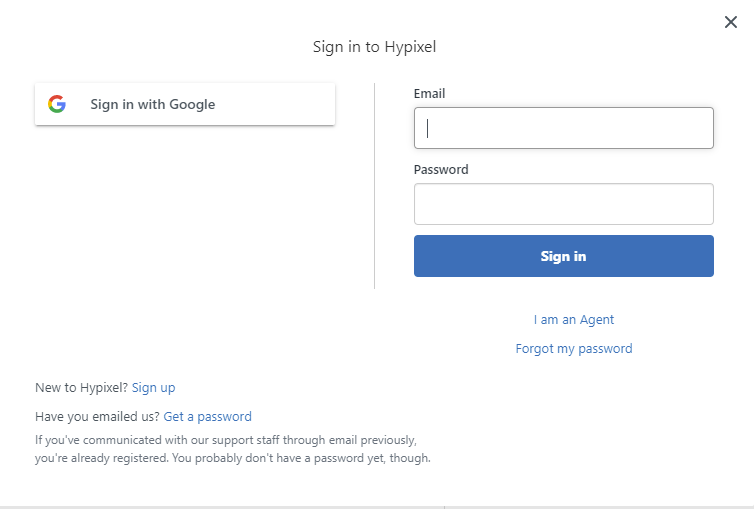 If you click 'Sign Up' after filling in your information, you will receive a verification email from 'support[at]hypixel.net' via zendesk.com. Clicking the link will send you back to the support page and will ask you to create a password.
Please create a strong password for your account to ensure nobody can use your name and email to contact us without your permission. We recommend using a password that is 8 characters long and contains numbers and symbols.
Now that you have your password set, you can sign into the Hypixel Support website. On the main screen, you will see two options available to create a ticket. You can click 'Contact us' in the top right corner of your screen or 'Click Here to open a new ticket' in the middle of your screen.

Either link should lead you to https://support.hypixel.net/conversation/new. Here, you can choose what the general topic of your ticket is and begin the process of writing to support.
When you feel comfortable with your message, hit send and it will start the conversation with the Hypixel Support Team. A Hypixel Support Agent will reply to your message soon, please be patient and wait for a reply.
On the side of your conversation, you will see additional information about your ticket such as status, priority and which agent has taken on your ticket. These do not affect your ticket, they just provide further information to the agent.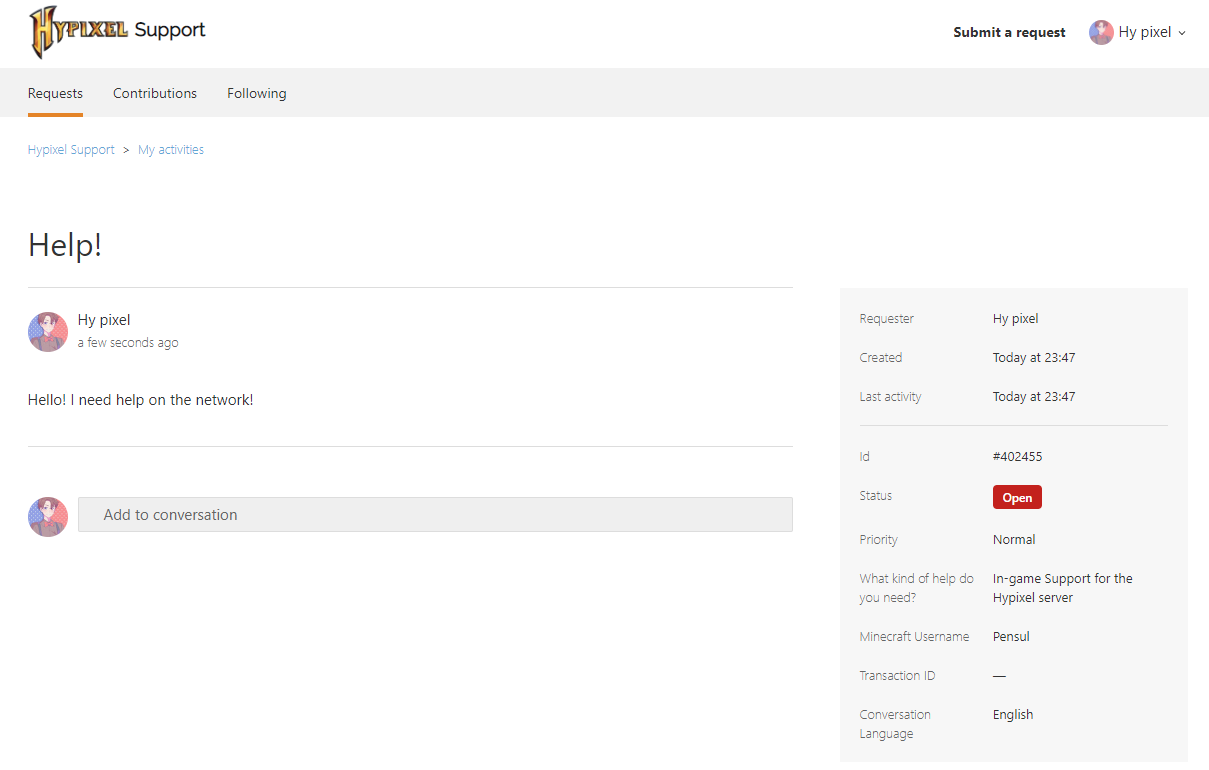 Now that you have your ticket created, you will see it on your Hypixel Support homepage support.hypixel.net. Make sure you check the website from time to time to see if your ticket has received a reply from an agent. It will also send you an email to let you know when an agent has responded.