We've recently added a feature to allow you to support your favorite creators when making purchases on our Server Store. Keep reading to find out how!
Why Support a Creator?
Supporting a Creator allows you to show your support with no cost to you!
Entering a valid code at checkout gives a portion of the sale directly to that creator.

Using a Creator Code
Step 1: Visiting Our Store
You can view our products to purchase here: Hypixel Store
You'll be able to find everything from Ranks, Hypixel Gold, Boosters, Skyblock Gems, and occasionally, incredible deals on Seasonal Bundles of multiple items. Please do note Creator Codes work with any items in our store, not just the product categories mentioned previously.
If you'd like a comprehensive guide on how to use our store, please visit here
When you click on a category, make sure you enter your current Minecraft username here when prompted

Step 2: Entering a Code
Once you've selected your products, navigate to Your Cart and proceed by clicking the Proceed to checkout button

After proceeding to checkout, you'll be prompted to complete your purchase by entering your payment details. At this stage, you'll also have the option to enter a Support a Creator code at this step, you can do so in the section shown below.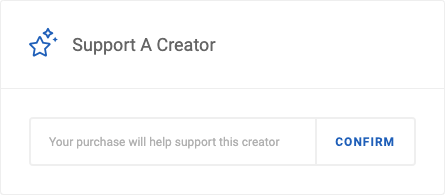 Simply enter a creators code, and then click confirm!
After entering the code of the creator you want to support, make sure to hit the 'confirm' button. As long as you've entered a valid code, you'll get a confirmation message like the one shown below.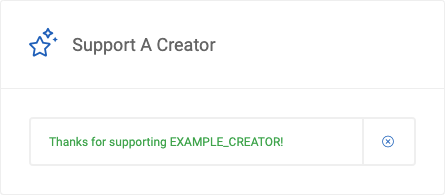 Remember that you can support a different creator with every purchase, so don't feel pressured to always use the same code!
Step 3: You've Supported a Creator
That's it! Once you've entered your code, all you need do is complete your purchase as normal and you'll have then supported your chosen creator with a portion of your purchase - all at no extra cost to yourself!
Thank you for supporting both us, and our amazing community of creators!
This program is currently only available to a limited number of Content Creators. In the future, we will be expanding and allowing Creators with our [YOUTUBE] rank to apply, and the community will be updated when this process will begin.