If you are a popular content creator with a large channel, you may be eligible to join our Creator Program here at Hypixel.
This comes with some benefits in order to make recording videos here on the network easier - including our YOUTUBE rank which includes benefits such as our nickname feature in order to avoid players targeting you in games while you are trying to record, and the [YOUTUBE] rank tag and red name to stand out when you want to be seen.
If you're interested in joining, you can find out our requirements for our YOUTUBE rank, and how to apply, below.
Jump to Section
Requirements for YouTube Channels
For content creators based on YouTube wishing to join our Creator Program, your channel must meet the following requirements in order to be considered:
30,000 or more subscribers for gaming channels with frequent new Minecraft-focused content.
100,000 or more subscribers for channels with infrequent new - though still some existing - Minecraft-focused content, but frequent gaming-focused content.
Channels without a significant - though still some - degree of gaming focus are considered on a strict case by case basis, though must have at least this many subscribers to possibly be considered.
1000+ views on all videos/streams within a few days (normally 7) of publication.
Assuming approximately weekly uploads, with this increasing significantly as frequency and regularity decreases. This does not apply to Shorts content, for which we expect significantly higher average viewership.
An active YouTube channel produces original content of a reasonable quality regularly.
Have uploaded Minecraft-related videos, including some Hypixel Network-related content which is publically viewable.
This requirement may not be mandatory in rare instances, however, this is considered on a strictly case-by-case basis.
Have NOT uploaded content in violation of our general content guidelines.
Please keep in mind that meeting these requirements is NOT a guarantee that we will grant an individual membership of our Creator Program or any associated ranks. While these are the minimum requirements to apply, all applications are ultimately reviewed on a case-by-case basis.
YouTube Streams
If you are applying based primarily upon stream-based content, please do ensure that your past streams are available for us to review in some form. This does not mean that they need to be publicly listed on the channel, though we do need to be able to see at least a playlist of unlisted streams - which itself can either be public on your channel or a link provided in your application if unlisted.
If we cannot see any content relevant to your application upon our initial review, we may decline your application. Simply stating that you stream is not enough for us to base an application on if we're unable to actually review that content.
YouTube Shorts
At the moment, purely shorts-focused channels are not eligible to receive the YOUTUBE rank. We view shorts to be more of a supplement to long-form content and would consider it necessary to upload or stream regular long-form content alongside shorts production.
We do not consider compilations or highlights of shorts content as long-form content.
As with all applications, applications are reviewed on a case-by-case basis, and meeting the requirements alone does not guarantee acceptance.
How to Apply
If your YouTube channel meets these requirements, you can click the button below to find out how to submit an application to join our Creator Program.
Please note that channels meeting these requirements are still not guaranteed a rank on the Hypixel Network. All ranks are decided on a case-by-case basis following reviews and consideration by the Hypixel administration team, and we may decline to give a rank for any reason.
Requirements for Streamers
We may sometimes also give the rank to streamers on sites such as Twitch (YouTube streamers should see the above requirements), though this is at our discretion and will depend on a variety of other factors.
While we don't currently layout full requirements for streamers on various sites, as what we look at from site to site does vary, we do ask for all of the following as a minimum:
30,000 or more followers (or equivalent).
This means default, non-paid tier followers (e.g. followers rather than subscribers on Twitch) - which have been legitimately gained.
Followers gained from "paid follower", follow bot, or similar services will not be counted. If you are aware of someone else doing this to your channel, please make us aware when you apply as this may affect current and future eligibility.

50 concurrent viewers or more.
This is your average simultaneous viewers on streams, not a one-time peak.
This is somewhat dependant on the streaming service, and may be slightly higher or lower for more or less popular sites.
An active and regular streaming schedule.
Streaming on a regular and predictable (i.e. scheduled) basis, not on rare and unpredictable occasions. We have to review your streams when considering these ranks, so us being able to check your streams is critical.
We do need to be able to see evidence of this at the time you apply. If you do not keep a history of stream archives going back a reasonable period, this may affect eligibility.
Streaming gaming-focused content on a frequent and regular basis, including some Minecraft-focused content specifically as part of this.
While we do want to see at least minimal amounts of streamed Minecraft content, we do not require that all streams are Minecraft or even that streams consist fully of Minecraft where it does appear.
As part of our reviews process for streaming based channels on most platforms, we do also expect to be able to review a reasonable amount of archived, previously streamed content. If we cannot see previous content as part of our reviews, this may result in an automatic rejection of an application.
Please keep in mind that meeting these requirements is NOT a guarantee that we will grant an individual membership of our Creator Program or any associated ranks. While these are the minimum requirements to apply, all applications are ultimately reviewed on a case by case basis.
If you choose to apply for the Creator Program based on your streaming channel, please remember to include your average concurrent viewership (you'll often find this in your statistics) and the times when you usually stream (including timezone) in your email. We do also verify these against third party services, however, it is also useful to have a slightly more accurate first party source.
How to Apply
If you believe you meet the requirements detailed above and want to apply to join our Creator Program, there are two ways in which you can do this - either here on our support site, or via email (see below for instructions).
However you apply though, please do ensure that you are providing the following information to us at a bare minimum - we will need this in order to be able to review your application successfully - and do keep an eye out for responses from us as we progress with your application.
Required Information:
Links to Your Channels
Example: https://www.youtube.com/channel/UCHoVdy7-tYfrZtfhnSDK3JA
Please note that usernames are not sufficient in many cases, with some platforms allowing the creation of multiple accounts with the same name.


Your Current In-Game Name
Example: Hypixel or JamieTheGeek
In order for us to know what account you're requesting a rank for, you need to tell us the current in-game name of it - this being the name shown on your account to others when playing on our server.
Applying via Hypixel Support (Recommended)
You can submit your application to us via our support site, using the "Submit a Request" form and selecting the "Creator Program (YOUTUBE Rank) Application" option from the "What kind of help do you need?" menu.
Though you do not need to register an account to submit a ticket, we do recommend doing so - both as this makes keeping track of your application easier for yourself, and as you will need one to access our Creator Program / YOUTUBE rank guides if accepted.
When filling out this form, please make sure to include all of the necessary information for us to consider your application. This should include the names of the platforms your channels are on in the "Subject" field, your current in-game name in the "Minecraft Username" field, and all other relevant information (such as channel links) in the "Description" field - as shown in the example screenshot below.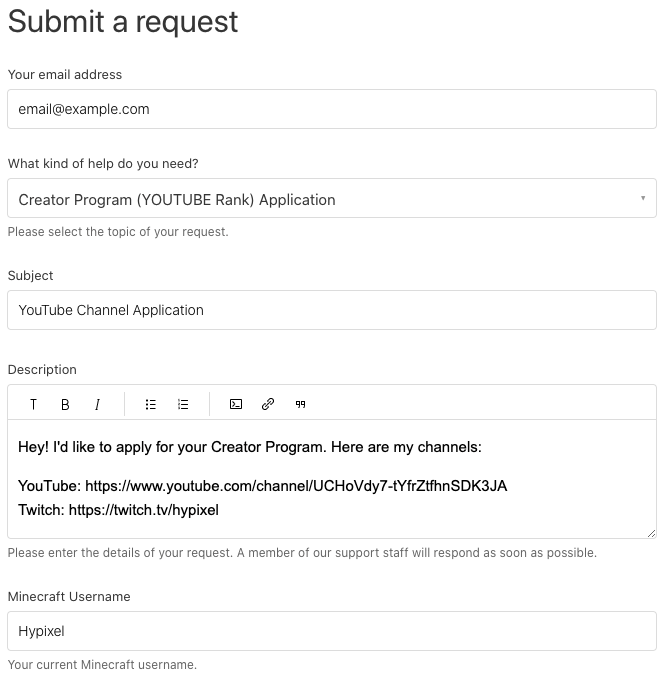 Apply via Email
If you would prefer to email your application to us, you may do so using the address shown below.
Please note that this is not a general support email address, or that of the owners of the server. This email is for the Creator Program team at the Hypixel Network, and as such we can only offer assistance with Creator Program queries, issues, and applications.
When sending your email, please set the subject line of the email to "Creator Program Application", followed by the platforms your channel is on (e.g. "Creator Program Application - YouTube, Twitch"). You should then include all other relevant details for your application in the message body, as shown in the example screenshot below.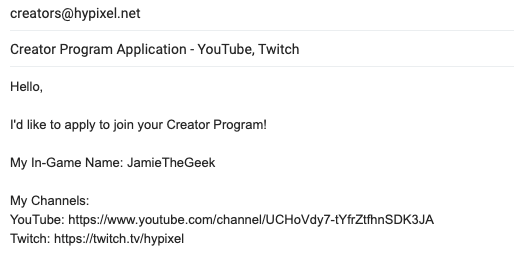 The appearance of this will vary from email provider to provider.
Hypixel Rules, Punishments & Creators
Content creators on our server are not exempt from our rules. In-fact, creators are generally expected to maintain a higher standard both as public figures and representatives of the community - people who other players may look up to as role models on how they should act and behave themselves.
Due to this, we would advise that any creator does make sure they are familiar with our network rules - covering our Minecraft server, forums, Discord server, and any other services we offer - before applying to join. For reference, you can find these on our website here.
For applicants, please note that we do expect all creators applying to join our Creator Program to be in "good standing" with us in terms of previous incidents when applying. This means that - while having punishments in the past may not be an issue for applications - we do expect that applicants will not have recently received any punishments, that the number of past incidents is not excessive, and that no rules violation is of an extreme nature.
Prospective applicants who are permanently banned from our competitive game modes on the Hypixel Network are also unfortunately ineligible for YOUTUBE rank. This is due to the nature of the ban itself, requiring multiple instances of severe rule-breaking. If you are unsure about your competitive status, you can view our article on Competitive Bans here
* There is a single exception to our rules given to players holding our Creator Program-specific ranks, this being an allowance to provide links to your public social media channels (e.g. YouTube, Twitch, Twitter, etc.) - but excluding private social media channels or external communities (e.g. Discords, websites, forums, etc.). While this is allowed, however, Creator Program members should not abuse the privilege.
Reporting Rule Violating Creators
If you believe that you've come across a member of our Creator Program who is breaking the rules on our server or acting in an otherwise significantly inappropriate way outside of our community, please do report them to us.
You can do this either via submitting a request here on our support site (selecting the "Creator Queries" option), or by emailing us at [email protected] (using the subject "Creator Program Member Report").
Any Questions?
We know that there is a lot to our Creator Program and that you may have questions about it as a result. Before contacting us to ask anything, however, please do first check that your question has not already been covered in our Frequently Asked Questions.
Creator Program Frequently Asked Questions
If you have any questions which aren't covered there, you can ask us either via submitting a request here on our support site (selecting the "Creator Queries" option), or by emailing us at [email protected] (using the subject "Creator Program Questions").